PitBullTax Software is the leading IRS Tax Resolution Software for CPAs, EAs, and Tax Attorneys!
PitBullTax Software version 4.0 now unleashes even greater power to put you in total control as the "go to" tax resolution expert while streamlining your cases like never before with the most cutting edge technology available today! As a cloud based solution, the power of PitBullTax Software can be accessed from anywhere, anytime through any computer, laptop, or tablet. Efficiency and aggressive advocacy are the keys to a successful IRS Resolution practice. PitBullTax Software's vertically integrated framework and intuitive workflow makes any case a breeze, while saving you precious time to handle more cases and, of course, earn more fees.
No case is too complex for PitBullTax Software. Programmed with proprietary analytic and diagnostic logic, PitBullTax Software eliminates the guesswork out of strategizing and building a successful case. With its user friendly data entry format, information is seamlessly calculated and populated into all necessary IRS forms and supplementary schedules to prepare: Offers in Compromise, Installment Agreements, Appeals, Currently Not Collectible cases, Innocent and Injured Spouse Relief cases, Taxpayer Advocate Assistance cases and so much more! When circumstances change, so too can your resolution with a few simple key strokes. PitBullTax Software also guides you through every aspect of the case by fully integrating IRS Transcript Delivery and Analysis, Scenario Simulations, Case Management and Billing, Payment Processing and other valuable and indispensible features such as: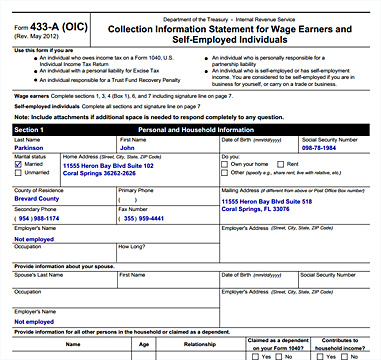 Integrated IRS Forms and Supporting Schedules
Instantaneously auto-populate all necessary IRS forms and supporting schedules. PitBullTax Software has incorporated logic into its forms enabling all data to be automatically calculated as required. PitBullTax Software includes IRS forms: 433-A, 433-A (OIC), 433-B, 433-B (OIC), 433-F, 433-D, 656, 656-L, 13711, 8379, 8857, 12509, 12153, 9423, 9465, 911, 843, 4180, 2848, 8821, 4506, 4506-T, and more being added!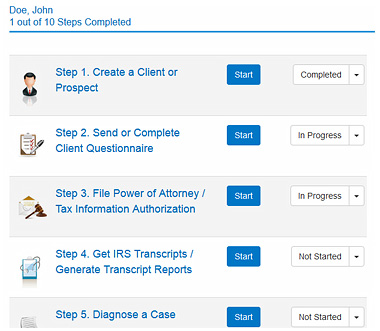 Step-By-Step Workflow
Not sure how to work the case? Use this software feature to guide you through a logical step-by-step approach on how to analyze, create and prepare it.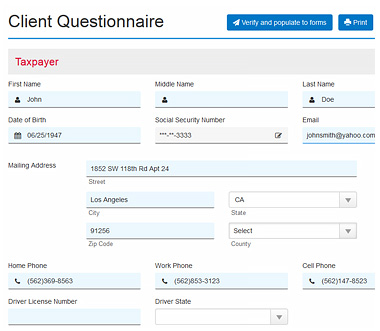 Client Questionnaire in English and Spanish (Individual/Business)
Send an email link through the PitBullTax application to your client to gather personal and financial data. Once the information is electronically sent back and verified, all necessary IRS forms are auto populated.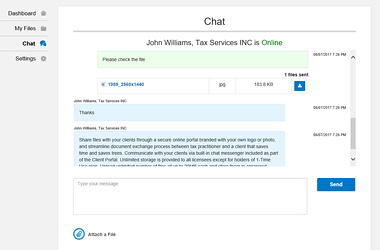 Client Portal
Share files with your clients through a secure online portal branded with your own logo or photo, and streamline the document exchange process between tax practitioner and a client that saves time and saves trees. Communicate with your clients via a built-in chat messenger included as part of the Client Portal. Unlimited storage is provided to all licensees except for holders of a 1-Time Use plan. Upload an unlimited number of files of up to 20MB each and store them in organized manner. You can also embed the Client Portal page on your own website for easy access by your clients.

View demo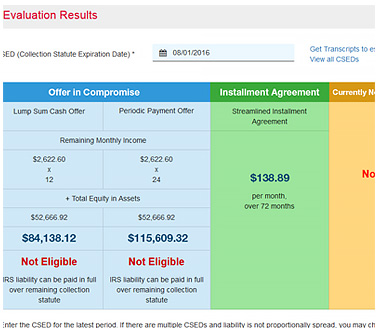 Resolution Evaluation
Quickly evaluate if your client is a more likely candidate for an Offer in Compromise, Installment Agreement or Currently Not Collectible status. Based on your client's financial information such as monthly income and expenses, number and age of family members, and assets owned, the software determines preliminary:
Offer in Compromise suitability and recommended payment options.
Installment Agreement recommended monthly amount.
Currently Not Collectible Status "53" eligibility based on taxpayers' lack of required income and assets needed to repay their tax liability.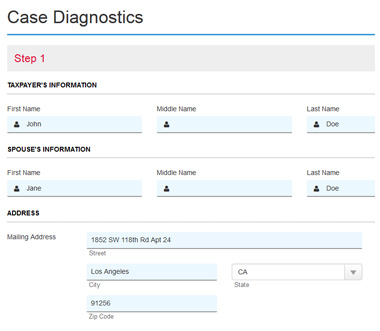 Case Diagnostics
A comprehensive sequenced twelve question evaluation determines the most probable resolution options available and the IRS forms required for each.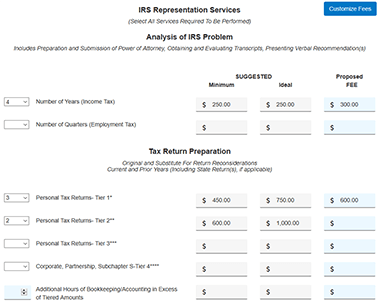 Fee Calculator
Estimate the range of professional fees to charge for your client's case with built-in "suggested minimum and ideal fees" from the extensive list of services provided in IRS Resolution cases. Intrinsic and psychological factors are also taken into consideration. Now you can also easily customize each service with your own range of fees.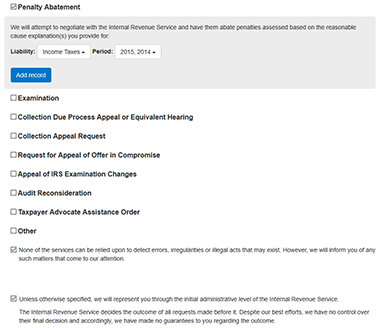 Engagement Letter and Document Request
Ready-to-use and customizable templates are provided to quickly generate an Engagement Letter with the ability to obtain electronic signatures.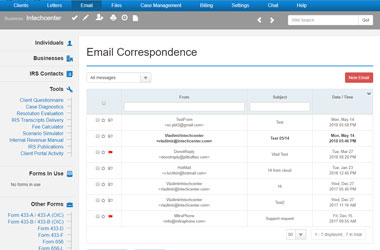 Incoming & Outgoing Email Correspondence
Organize your email correspondence with clients easily and connect multiple email boxes to your account. Only emails from your clients are imported into PitBullTax Software. Personal email correspondence and unwanted junk mail are filtered out. Send password protected IRS Forms prepared in the software to ensure security of your clients' information.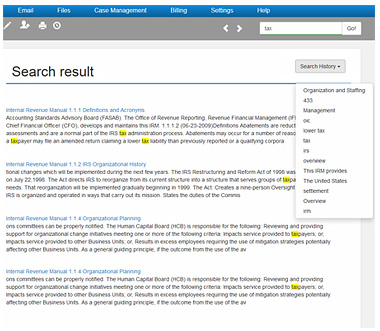 Searchable Internal Revenue Manual
Access the Internal Revenue Manual by searching keywords and phrases that are visually highlighted to laser target the answers you need.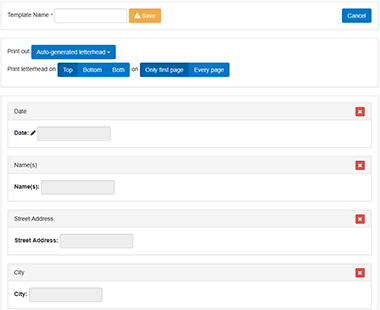 Customizable Response Letters
Create responses to the most common collection issues with easily customizable letters to submit an Offer in Compromise, an Installment Agreement request, a Penalty Abatement request, a response to a CP 2000 Notice and a Currently Not Collectible request.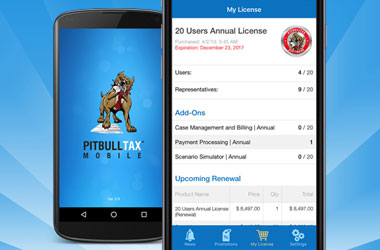 Mobile Application
Stay connected anywhere, anytime with PitBullTax Mobile. You can share files and chat with your clients through the mobile application, obtain security codes for your IRS transcript requests, receive transcript alerts, get the latest news, system updates and security alerts when your account is accessed from an unknown device.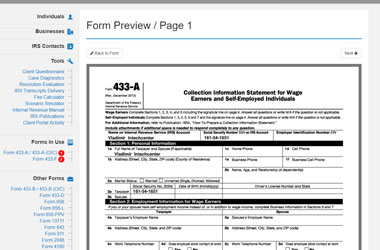 Enhanced Forms Preview
View exactly how your IRS Forms will appear directly from the data entry pages to make sure you entered everything properly without the need to print the forms.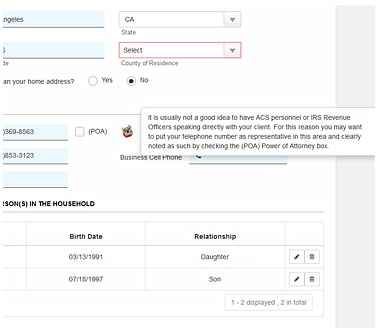 Expert Tips and Techniques
Novices and pros alike will gain additional perspective by accessing a huge database which includes basic and advanced IRS resolution planning techniques and strategies located throughout the data entry section. Confidently represent your clients, utilizing the expertise of the entire PitBullTax Software community.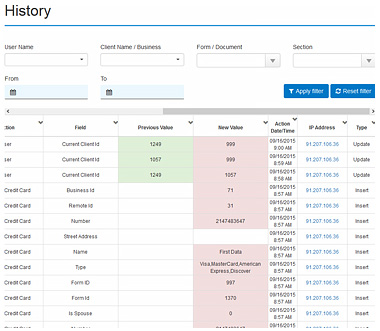 History Log
The software archives and timestamps all inputs made, thus eliminating any doubt as to when or what was added, changed, or deleted.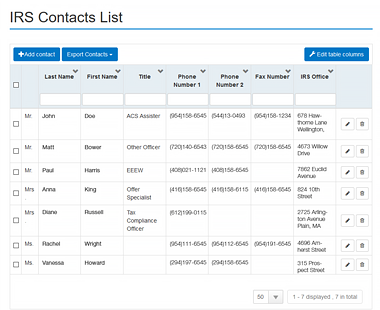 IRS Contacts List
Create a searchable listing of IRS personnel that can be linked to client profiles.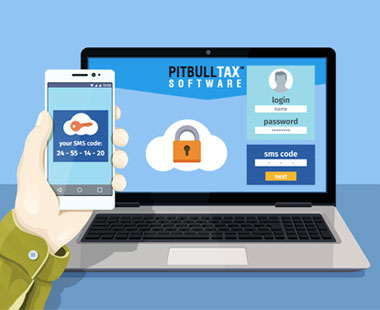 2-Factor Authentication (2FA)
2-Factor Authentication (2FA) is an optional extra layer of security used to make sure that PitBullTax Users trying to gain access to a PitBullTax online account are who they say they are. First, PitBullTax user will enter their username and a password. After receiving a username and password, the site sends user a unique one-time passcode via SMS text message. Then, instead of immediately gaining access, user will be required to enter one-time passcode sent to user's phone via SMS text message.

With 2-Factor Authentication, a potential compromise of just one of these factors (username/password or access to mobile phone) won't unlock the account. So, even if your password is stolen or your phone is lost, the chances of a someone else having your second-factor information are highly unlikely. In an effort to provide more secure and protected software application to all licensees, PitBullTax Software has 2-Factor Authentication available to all users at no additional cost.
Ready to take your IRS Resolution Business to the next level?
Ready for the most powerful IRS Resolution Tool ever created?
Well then… Welcome to the Pack! … Welcome to PitBullTax!